Need a system to become a better Designer ?
Try my 5-Steps Creative Process !
Become the successful & innovative designer you want to be.
I'll show you how in this free ebook !
Are you a Creative Soul,
and are you interested in Textiles ?
Did I just hear "YES" ? Amazing !
That means you're in the right place !
No, you're not the only one who thinks textiles are actually cool !
I'm a textile designer, and I'm kinda obsessed with them 🤫
But we are not the only ones !
This site gathers a community of creative people who want to use textiles as a medium for their designs. Fashion or textile designers, artists discovering fabrics, industry professionals, students or total newbies, we're all here to share our knowledge around [now you guessed it!] Textiles !
Does this community sounds fun to you ?
A second yes I hear ?
Oh well, you can definitely be part of the crew 💛
I know you're a Textile Lover as well, but maybe you …
– don't know how to become a designer
– need a little bit more technical knowledge around fabrics, to make better choices when you're creating
– wanna discover new cool fabric manipulation techniques but don't know where to look at !
– feel super creative, but at the same time you don't know how to translate your ideas into actual designs
No matter where you are in your creative journey, you're hungry for more ! 
More designing, more knowledge, more creativity, and more friends to share your journey with !
But you haven't found the right resources for you yet, and you don't know how to make your dreams a reality …
Trust me, I understand.
I was that little girl with huge dreams, and ZERO idea on how to become a successful designer.
But now that I am one, there are a few things I have discovered, and I totally believe that :
~ Everything can be learned : YOU. DO. NOT. NEED. to be a creative Genius to succeed, to create nice things. No one I know (that I believe is talented) is just gifted ; they spent time learning their craft.
~ Textile Design isn't only about yo' grandma's patchwork, or your cousin's colorful prints. There ARE other things !! And what I personally love the most is textile manipulations.
~ Which brings me to this : Textiles are sooo cool ! If you forget (sorry grandma) about patchwork made with out-dated fabrics, or DIY-ish cheap creations, you can create amazing and modern things. And that's what I'll be teaching you !
I'm Floriane, and I'm obsessed with 2 things :
~ Textiles [you're starting to understand how much ahah]
and
~ Seeing that little sparkle of joy and pride in a designer's eye, when they finally realize how proud of their work they are 💛
In a nutshell, I help Creative Souls make better creations with textiles, offering coaching and online course.
But how did I get there ?
And why should you listen to anything that I'm saying ?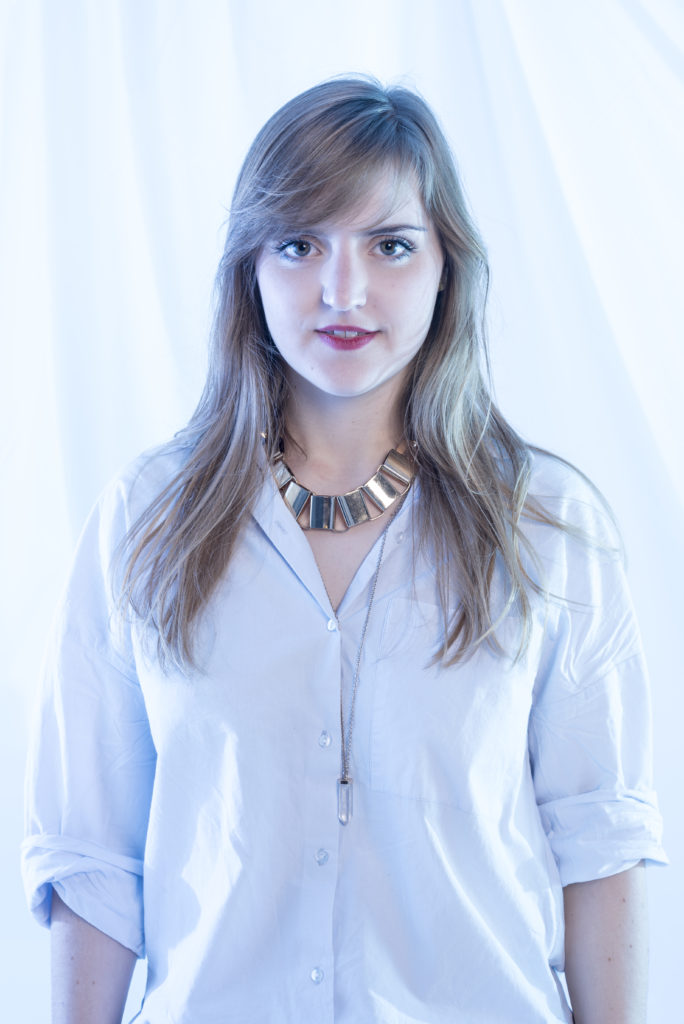 Maybe it's time I introduce myself !
My name is Floriane Schmitt, I'm French and I am a textile designer.
I studied fashion design in Paris, and then realized I loved textiles more than clothes, and it lead me to create my own Creative Textile Studio, called Flo Home Delight. 
Since then, I also started to help Creative Souls just like you, to make their own textile creations and be more confident in their creativity. 
But it wasn't easy to get there.
I always knew I was a creative person, but I didn't know ANYTHING.
I couldn't draw, I couldn't make beautiful things, I didn't know how to design.
But I wanted to be as big as Karl Lagerfeld.
I wanted to be a huge designer.
I wanted to be paid for my creativity.
So, even if I was full of fears on how I might never be as good I as dreamed of, I decided to pursue my big dream, which was to become a fashion designer.
I entered a design school, then a fashion design school.
There, I had the chance to learn EVERYTHING I didn't know about [remember when I told you that everything can be learned ? I know because I did 😉 ], and discover everything from the creative process to drawing to design culture and technical knowledge.
I also interned and worked for a whole lot of companies, in huge and small places, in positions as different as a salesperson to design assistant during Haute Couture Fashion Week.
After all these experiences I realized 2 things :
~ First , that I loved textiles, and specifically textile manipulations [read more about what that is here], more than fashion design & clothes.
So I started to become a textile nerd, trying every techniques, learning all the theory on how to make fabrics, even making internships with textile professionals.
~ And Second, I learned that I am not made to work for someone else, and that I wanted to create my own company.
So I finished my studies, while preparing Flo Home Delight's business plan, and launched it right after.
I went from a little girl who knew nothing, to becoming top of my class during my Master's degree, with +7 professional experiences in the fashion industry, and be named "Artisan d'Art" (a special French distinction for French Craftsmen) with my brand Flo Home Delight. 
And the best part about all of this ?
I discovered the best feeling in the world.
Imagine if you could be proud of your designs. Imagine how you gracefully explain your concepts, and sell it to your clients or boss. You feel super happy and fulfilled, because you know you were made for this life. You are proud of your designs, and proud of yourself for all you've been through and learned to get there. You are a designer.
This was my favorite moment in my entire life, and I want YOU to experience it as well.
Though all my content, whether it'd be during coaching sessions, online courses, articles on the blog, in free Facebook community, or anywhere else, my goal is to help you get THAT exact feeling.
So now, I'm teaching about :
~ Fabric Manipulations
~ Textile Knowledge
~ Creativity
All with the end goal to help you become an accomplished designer.
If you're interested, let's keep in touch !
I invite you to join my email list community. By joining, you'll get weekly advices on those subjects, + free ebooks, cheatcheets, lives, and special access to everything I'm teaching ! Click the button to sign up :
Thank you so much for being here ! [and reading to the end !]
I genuinely appreciate you !
Floriane ✨
Read more on the blog about :
Discover my 5-Steps Creative Process for Designers :
Wanna Hang out with other Textile Lovers ?